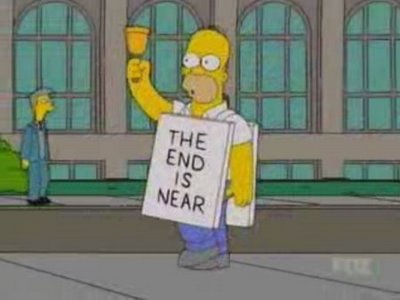 There is probably not anything more un-Episcopalian than standing on a street corner proclaiming that the end is near. Unlike in some Christian circles, the end times is not a significant topic of conversation among us. To be perfectly honest, I am not particularly unhappy about that fact.
Yet here we are at the beginning of Advent and, at least at the beginning of this season, we are asked to reflect on what we mean when we say "Christ will come again." I said yesterday at the Eucharist that we read "end time" texts from the Bible and assume the news they bring is bad. Jesus is coming back and this time he's angry. We say every week in the Nicene Creed, "He will come again in glory to judge the living and the dead..." No matter which way you try to spin it, judgment sounds painful. Do any of us not have aspects of our lives that will be judged harshly? I suspect not.
When St. Paul considers this reality in the eighth chapter of Romans he realizes something very important. He says
Who is to condemn? It is Christ Jesus, who died, yes, who was raised, who is at the right hand of God, who indeed intercedes for us. Who will separate us from the love of Christ?
His answer is, "Nothing." The one who will be our judge is first our lover, the one who prays for us always, whose life was an offering which took in the life of the whole world. Our judgment will result in our freedom. We have nothing of which to be afraid.
We sang a contemporary Advent hymn at the end of the late Service yesterday which can have the last word (the second verse):
Can it be that from our endings, new beginnings you create?
Life from death, and from our rendings, realms of wholeness generate?
Take our fears, then, Lord, and turn them into hopes for life anew:
Fading light and dying season sing their Glorias to you.
Dean W. Nelson (b. 1944) (from
Wonder, Love and Praise
, #721)